MOST POPULAR TRIP
Tax free shopping, the rock, the barbary apes, British colony.
Shopping: 5 hours free time
Rock tour: 1h30m rock tour by local minivan with driver/guide: Stop at Europa Point and then ascent to the rock and entrance fees to Saint Michael Caves and Apes Den (the barbary apes) at the natural reserve, return to the coach park and 3h30m free timeDolphin tour: 1h30m cruise ship to watch the dolphins at the straights of Gibraltar and later 3h30m free time
PRICE per person pick up from Malaga, Torremolinos, Benalmadena, Fuengirola, Mijas Costa, Marbella and Estepona
Departures Tuesday, Wednesday, Friday & Saturday
Transport by a/c motorcoach On board tour guide. All our tours are in English, Spanish, French, German & Italian languages.

Shopping Tour 25€
Rock Tour 59€
Dolphin Tour 55€
Please note the prices quoted are for Adults –
Children up to 3 years are Free
Children 4 – 14 years 25% Discount.

Supplement for the following
Malaga pickup add …..3€

Simply book over the phone with our English speaking operator-
The Excursion Centre – (0034) 952 383 445
Monday – Friday 09.30 – 13.30 & 16.00- 20.00 Saturday 09.30 – 13.30
PLEASE NOTE
Payments for the trips is by Credit Card only.
Your credit card will be charged the day before and you will be given a copy to sign on the bus.
Cancelation Policy
Free cancelations 3 days before trips.
100% charges for cancelations less than 24 hours and no show.
Whilst we would obviously like you to book with us – if you choose to go with someone else, please ensure that they have a CIAN number similar to the one above. This way you can be assured that you are travelling with a legally licenced and insured company.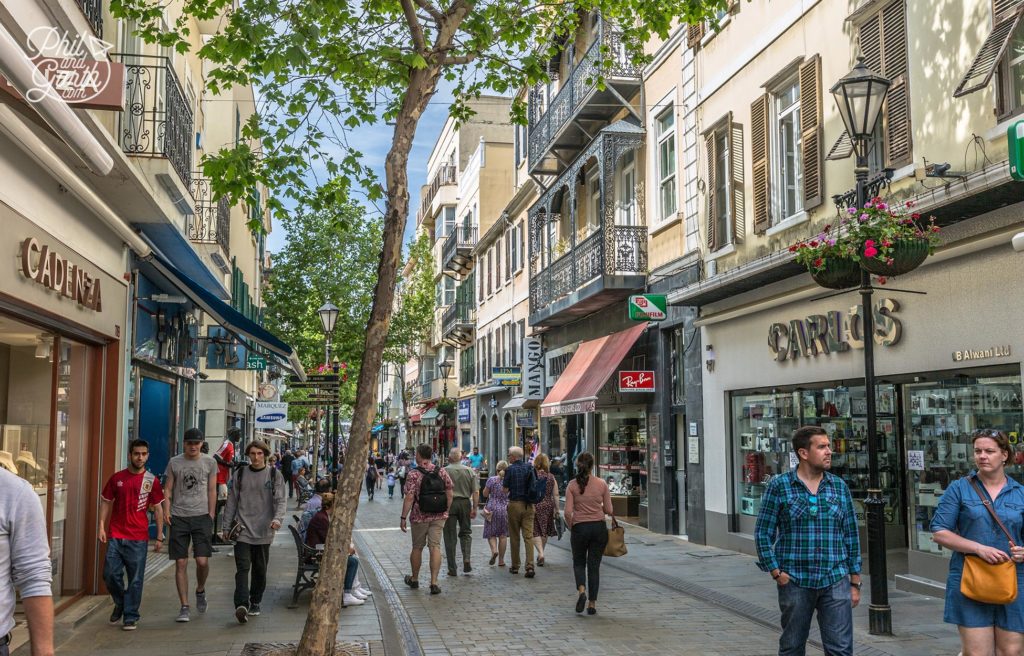 If you are on holiday and considering a day away from the beach or swimming pool, why not visit Gibraltar – a little bit of the UK in Spain. Here on the Costa del Sol you are ideally situated to visit the famous "Rock" either by hiring a car or relaxing on one of the coach trips which take, on average about 2 hours to deliver you to what is, probably, one of the most fascinating places in Europe.
Gibraltar is basically a limestone rock formed by millions of small shelled animals which died and settled on the seabed, over millions of years these shells hardened into rock and when Africa collided with Europe the rock was forced up into the shape that is so recognisable today. Many people think of Gibraltar as an island but, in fact, it is joined to Spain by a narrow isthmus. This strip of land, containing the runway for Gibraltar airport is much more sandy than the rest of the rock as it remained covered by the sea for a much longer period. Towering above the straits, which separate the Atlantic Ocean from the Mediterranean Sea, Gibraltar has, historically, been very significant and was settled by people at a very early stage. As the Rock is limestone it is riddled with caves and, again, these have added to it's importance as a place of habitation. These caves can be visited as part of the Rock Tour and contain a famous, natural auditorium where many concerts are performed.
Gibraltar has about 32km of roads and, unbelievably, over 50 km of tunnels most of which were built during the second world war. Thousands of troops lived and worked in these tunnels which contained a number of hospitals, 24 hr kitchens, stores and workshops. A small part of these tunnels have been opened to the public and can be visited with Parodytur Rock Tours or as part of the Excursion Centre Friday Gibraltar excursion.
Gibraltar is, rightly, famous forvit's wildlife and the upper parts have been designated as a Nature reserve. Plants peculiar to Gibraltar include wild olive trees, and Europe's only native palm, the Dwarf Fan Palm. For those interested in plants there is an excellent Botanic Gardens, opened in 1816, containing some 600 species of trees, shrubs, cacti and flowering plants. Animals, as well, thrive on the rock including the rare, Giant Oscillated Lizard, the swallow tail Butterfly and the native Gibraltar Partridge. Most famous of all are the Apes of Gibraltar, which are properly known as Barbary Macaques. These friendly creatures are almost tame and are a delight for young and old alike. The are well looked after as it is said that if the apes leave Gibraltar it will no longer belong to the UK!
Many of Gibraltar's other attractions are a result of it's long and mixed history. These include: The Moorish Castle, last rebuilt in 1333, to protect Gibraltar from the mainland. The Convent, once a home to Franciscan Friars but, since 1728, used as the official residence for Gibraltar's Governors. On weekdays the Changing of the Guard is performed at various times and is a spectacle well worth watching.
To get the best out of your visit we recommend the Rock Tour which visits Europa Point. Be aware that, following Brexit, it is not permitted to bring meat and dairy products (with the exception of pet food and baby food) into Spain from Gibraltar. Alternatively try the Cable Car for spectacular views over the Rock itself, neighbouring Spain and Africa.
Gibraltar is also famed for it's duty free shopping with particular emphasis on cameras, electronic products, perfumes and other beauty products. It is worth mentioning that, if you are planning to buy anything of value, you are best to do it with sterling or a credit card as the exchange rate offered by most shops is very poor.